1967 – 1975
It took nine years of intense research and more than one million dollars for Sears to develop the DieHard — America's most innovative automotive battery — tested, proven and guaranteed to deliver across any circumstance.
Introduced in 1967, Sears designed the DieHard to produce 35 percent more usable starting power than other similar batteries. Featuring a revolutionary tough, thin-walled case of translucent polypropylene plastic, which was 50 percent thinner than conventional black rubber-type battery enclosures, the design's extra room meant bigger plates, more acid and extra starting power.
In addition to the space-saving and visibility advantages, the polypropylene case was stronger as well. The development of tools to manufacture the clear plastic container was a major undertaking. That project alone took some of the country's finest toolmakers more than a year and a half to build. The machines they developed represented a substantial advance in precision injection molding. The first, mammoth injection molding press for the DieHard weighed 600 tons and required 500 metric tons to clamp shut. By itself, the mold for the container weighed 4.5 tons.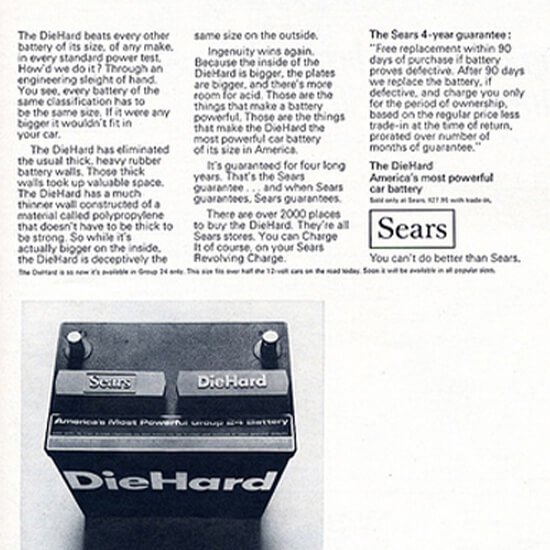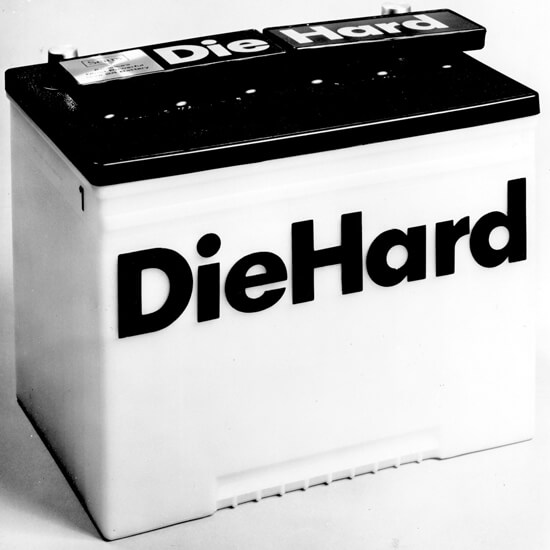 Innovation
Sears revolutionized the automotive battery replacement category in 1967 with the introduction of DieHard — a tough, thin-walled, translucent plastic case 50 percent thinner than conventional black, rubber-type battery enclosures. The result: bigger plates, more acid and extra starting power.
The name DieHard is derived from its unfailing operation over several million miles on test vehicles at high and low speeds in varying climates at high and low altitudes.
During testing, not a single failure was reported in over 26,000 starts in temperatures ranging from sub-zero to more than 100 degrees.
Milestone
DieHard batteries were used in sets of three to provide the 36-volt starting power for most of the 33 cars entered in the 1970 Indianapolis 500.
Stock car superstars Richard Petty and Bobby Allison depended on DieHard to power their cars at the 32 events scheduled for NASCAR®'s 25th Anniversary Grand National Season in 1973.
Recognition
Sears marketed DieHard through a series of innovative advertisements ranging from batteries frozen in ice to batteries in Baja race cars.
In the 1960s, popular TV comedy shows starring Garry Moore, Carol Burnett and Tim Conway all featured parodies of the DieHard brand and its battery known for reliable starting power, performance and long life.
1976 – 1985
By 1983, Sears had introduced new DieHard diesel batteries for model VWs and Porsches, a new line of fleet service batteries and golf cart batteries, as well as the first DieHard motorcycle battery. Tough enough for select Harley-Davidson motorcycles, the new 12-volt motorcycle battery featured a spill-proof, high-impact polystyrene black case and an ABS plastic top. It not only boasted more power, but greater cold-cranking amps and reserve capacity than many original-equipment batteries.
Then the DieHard Incredicell System arrived. A powerful new automotive battery that virtually did everything except install itself, the Incredicell System featured up to 670 cold-cranking amps and 130 minutes of reserve capacity, as well as an exclusive under-dash-mounted electronic monitor, which kept the motorist abreast of the operating condition of both the battery and charging system. Used in most domestic and imported cars and trucks, the Incredicell System marked a new success for the DieHard brand.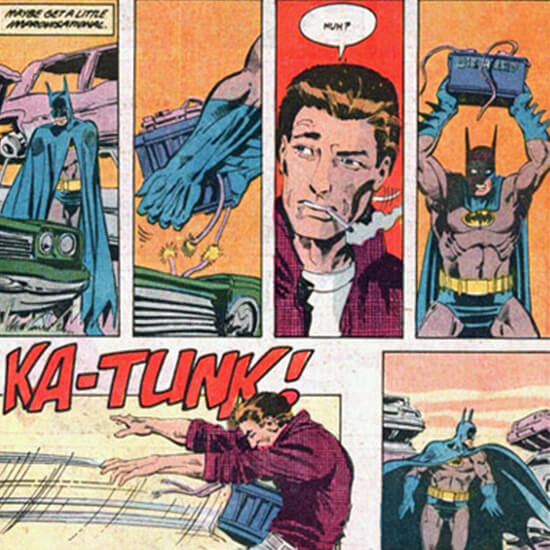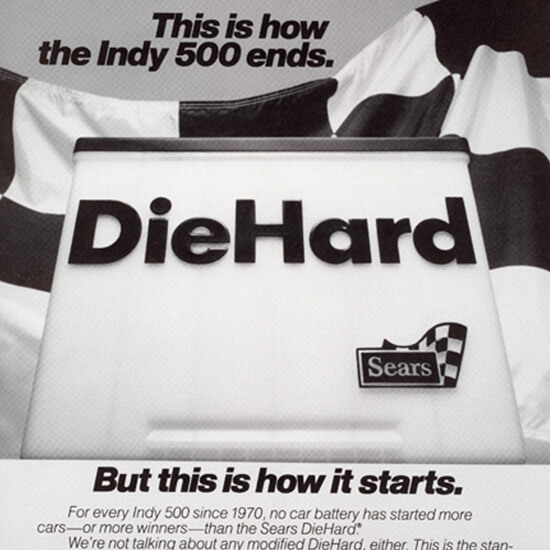 Innovation
DieHard introduced five new maintenance-free, "add-no-water" 12-volt batteries in 1976 for cars and trucks — eliminating the need for motorists to purchase a more costly premium battery.
In 1983, Sears introduced the first DieHard motorcycle battery, tough enough for select Harley-Davidson motorcycles.
Milestone
DieHard Trackside Service extended itself to stock car racing — offering starting batteries, contingency awards and technical assistance to all 33 competitors on NASCAR®'s 1976 Grand National Winston Cup circuit.
Recognition
DieHard helped propel Cale Yarborough to victory in the 1983 NASCAR® Daytona 500.
1986 – 1995
In celebration of the 20th anniversary of the DieHard, Sears introduced the innovative XDH-1 Battery. The XDH-1 was a high-performance, experimental battery that DieHard especially made for electric vehicles. During a rigorous testing process, the XDH-1 successfully powered a two-person electric car for nearly a hundred miles at an average speed of 45 mph. With this revolutionary achievement, the XDH-1 DieHard made a serious contribution to the advancement of electric vehicle development.
The DieHard brand continued to lead the automotive battery category, constantly working to develop the most technologically advanced batteries available on the market. In 1988, the DieHard Gold Automotive Battery was introduced and immediately became Sears most powerful automotive battery. Featuring an electro-flo pump, the DieHard Gold Automotive Battery had more plates and plate surface than any other battery and remains at the top of the DieHard line today.
Throughout the 1990s, the DieHard brand expanded to include flashlights, flashlight batteries, rechargeable batteries, gel cell batteries, work boots and next-generation DieHard marine-starting and deep-cycle batteries. DieHard also debuted the DieHard Gold HeatHandler Battery — the most dramatic improvement in automotive batteries in more than 20 years. Created specifically for southern climates, the DieHard Gold HeatHandler Battery used advanced technology to help solve heat-related damage, battery acid evaporation and plate deterioration commonly found in harsh, hot environments.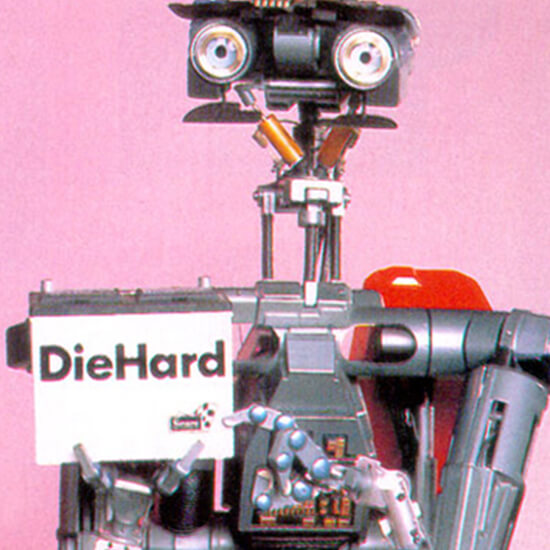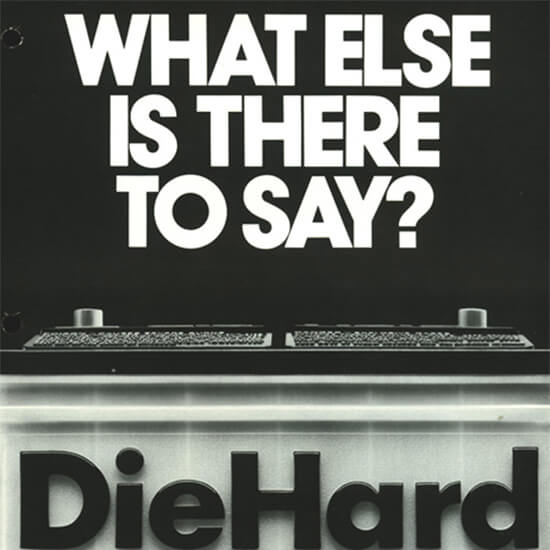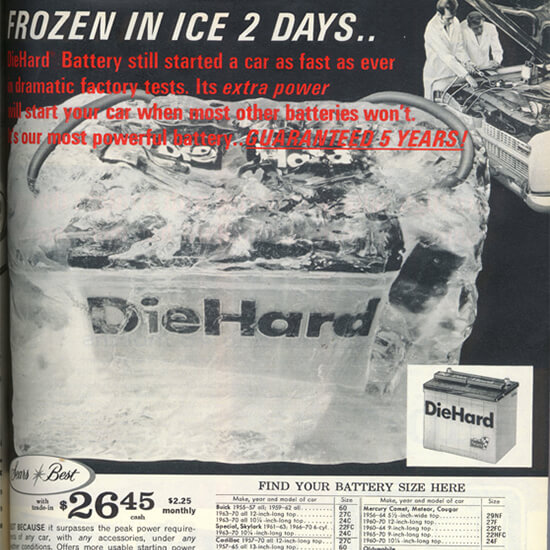 Innovation
In 1988, the DieHard Gold Automotive Battery was introduced and immediately became Sears' most powerful automotive battery.
In 1991, DieHard batteries began to feature cases and lead plates made with 50 percent recycled product.
Milestone
Delivering on its traditional promise of "satisfaction guaranteed," in 1991 Sears announced a first of its kind, free one-year emergency jump-start service to motorists who purchased a DieHard automotive battery.
In 1994, DieHard set a new industry standard by offering a seven-year warranty and two-year free replacement on its best battery, the DieHard Gold HeatHandler.
Recognition
The DieHard battery sponsored the Richard Petty team car driven by Wally Dallenbach Jr. during the 1994 NASCAR® season.
In 1987, DieHard won the Advertising Age Best of the Press award for its popular Indy Helmet advertisement.
DieHard batteries kept robot Johnny Five recharged in the 1988 movie Short Circuit 2 and were also evident in the 1990 movie Days of Thunder, starring Tom Cruise.
1996 – 2015
In 2007, DieHard teamed up with Orange County Choppers (of TLC's popular American Chopper TV show) to design a custom bike. The chopper debuted at the International Motorcycle Show in Chicago in February 2008. When not out on tour, the bike can be seen at DieHard HQ in Hoffman Estates, IL.
DieHard teamed up with Orange County Choppers once again in 2009 for an OCC chopper built for Siemens that was powered solely by the DieHard Platinum Automotive Battery. This same battery has been ranked #1 by a leading consumer publication for its superior AGM performance.
Innovation
DieHard once again led the automotive battery category in 1999 with the introduction of the DieHard Security Battery. Backed by intensive research and development, the DieHard Security Battery is the only automotive battery engineered to start your car and stop a thief.
The DieHard Platinum Automotive Battery arrived in 2007. A premium-grade automotive battery, the Platinum battery is designed for a longer life than traditional batteries. It offers an increased level of safe operation, resistance to extreme heat and cold, and proven vibration resistance.
Milestone
In 2007, DieHard celebrated its 40th anniversary as a battery brand. DieHard brand has sold more than 200 million automotive batteries since 1967.
In 2011, DieHard brand took speed and power straight to the winner's circle. Piloting his DieHard Advanced Gold car for Don Schumacher Racing, driver Matt Hagan won the NHRA Funny Car World Championship in just his third full season.
Recognition
In 2012, DieHard won the Popular Mechanics Readers' Choice Award for "Most-Preferred Automotive Battery."
In 2013, DieHard brand won the Unruly Video Sharing Award for "Most-Shared Halloween Ad." The brand's zombie-filled spot, "The Getaway," showcased DieHard battery power and reliability in a spooky new light.
2016 – Today
DieHard celebrated its 50th Anniversary in 2017, and Advance Auto Parts acquired the DieHard brand in 2019. In 2020 DieHard introduced the Platinum automotive battery—a flooded battery with enhanced reliability and starting power, and 30% more lifespan than a standard flooded battery.
In October 2020, Advance Auto Parts launched the "DieHard is Back" campaign with an action-packed two-minute film that brought two classic brands back into the spotlight: DieHard batteries and the Die Hard movies. In the film, John McClane fights off henchman again, but this time his sidekick is a DieHard Platinum AGM battery.
In February of 2022, DieHard AGM batteries became the first automotive battery in the world validated by UL to be made from a minimum of 94% recycled materials, empowering consumers to be able to make a more sustainable choice.
The DieHard Brand continues to expand launching power tools in 2021, and hand tools in 2022.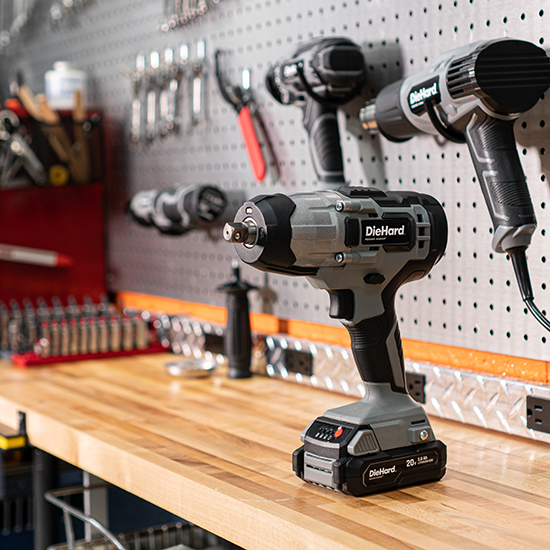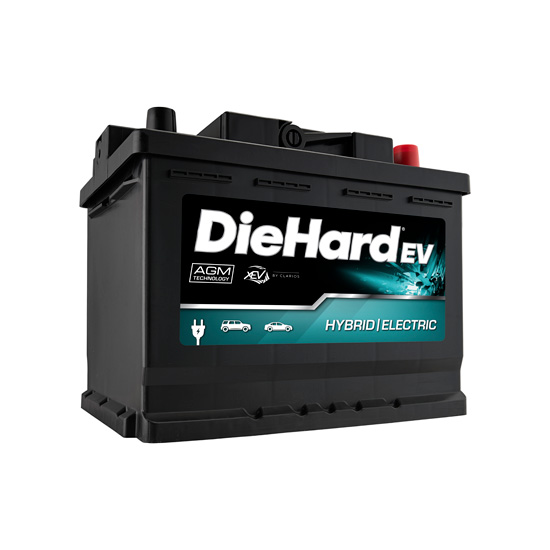 Innovation
In 2016, DieHard launched new Silver Touring tires that provide durability and handling for a comfortable ride that's worthy of the DieHard name.
The same year, DieHard combined reliability and innovation with the new Smart Charger/Maintainer. This fully automatic charger keeps batteries of various kinds fully charged without overcharging.
Plus, the brand introduced its Li-Ion Jump Starter, allowing DieHard customers to quickly start their vehicles in emergencies. The pocket-sized jump starter works great for power sports, motorcycles, and 4-or 6-cylinder cars.
Milestone
In 2017, DieHard celebrated its 50th year as a trusted battery brand. In fifty "Power Full" years, DieHard has sold enough batteries to reach all the way around the world one and a half times. And in 2017, the first DieHard Auto Center opened its doors in San Antonio, Texas.
In 2018, the brand introduced all-new DieHard Beam Wiper Blades, engineered for durability to keep drivers seeing the road ahead in all weather conditions.
In 2019, DieHard introduced floor mats featuring a patented built-in Central Pan® designed to meet the challenges consumers face every year with puddles in their vehicles from melting snow brought into the car on winter boots.
Advance Auto Parts, Inc acquired the DieHard brand on December 23, 2019. DieHard automotive and specialty batteries are now available in over 5,000 Advance Auto Parts and Carquest Auto Parts stores, Sears Auto Centers, and many professional shops.